| | |
| --- | --- |
| ■ | Compound design in accordance with the water quality and relevant regulations (compound only necessary component) |
| ■ | Low equipment and management cost |
| ■ | Applicable to heavy-metal containing water (arsenic, lead, chrome, etc.) and blue-green algae |
| ■ | High treating capacity ( high cohesive force, high sedimentation velocity) |
| ■ | Manufacturered by Mago Corporation - Kanazawa University Joint Research and Development |


Very tiny and light substances causing water contamination are carried across a wide area and deposited in the water. That can result in the death of living things like moss and lead to environmental destruction.
Our object is to decrease burdens on the environment and to prevent the nature by shortening the flocculation time and preventing the spread of fine particles.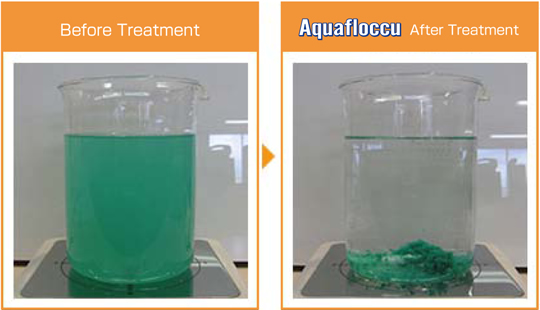 ※Excellent flocculation for seawater and fresh water

While the conventional flocculation process using polyaluminum chloride and macromolecule for the amount of suspended particles less than 100mg/l in the water only gets white turbidity in color, Aquafloccu can decrease such suspended particles under 10mg/l.